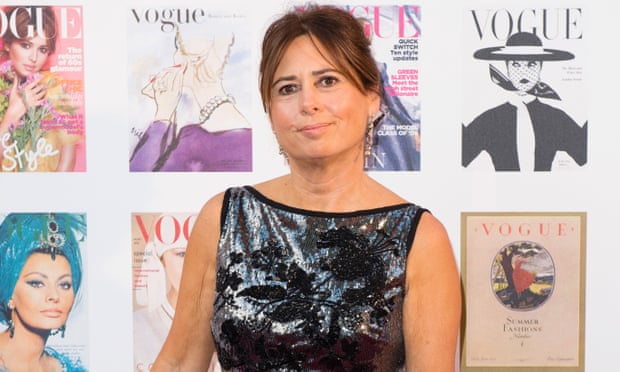 Image taken from
2736.jpg
(I do not own this image. Credit: Getty)
Hello lovelies,
Last week saw news break that after twenty-five years, Alexandra Shulman is to step down as Editor-In-Chief of British Vogue. After reading
'Inside Vogue: A Diary of my 100th year',
I was planning on writing a simple review about how much I loved the book, but on hearing the news I was glad I hadn't already posted it. Now, with a heavy heart, I can take the time to write Alexandra the tribute she truly deserves.
Vogue has been a part of my life for so many years. I'm an avid collector and I realised that in my Vogue-reading lifetime (I'm 31), Ms Shulman has been my constant (I wasn't so stylish that I was reading the magazine when I was four, although that would've been a great story!). The editor is the person you take for granted; unless you work in journalism or publishing, it doesn't really enter your head that it takes one incredibly strong, decisive and forward-thinking person to make a magazine like Vogue sell and tick. Alexandra Shulman was that person, and I'm so thankful to her for making the magazine great, for it's fashion and its hard-hitting and well thought our journalism in equal measure. Not only did she boost massively boost sales of the magazine during her tenure, she was also the brainchild behind the super successful Vogue Festival; that's not to be sniffed at.
After watching '
Absolutely Fashion: Inside British Vogue
' documenting the magazine's centenary year and the opening of the absolutely brilliant 'Vogue 100' exhibition, I was keen to read Alexandra's book on the same subject. I was interested to read her take on the year, away from the cameras, and I'd definitely recommend the book to all Vogue lovers, or for those that simply admire Ms Shulman's work. She is brutally honest; but what could've been a career ending year for her had it all gone wrong, proved to be her most successful. Reading her memoir, you can feel the stress pouring out of the pages; the difficulty of keeping the Centenary issue cover a secret, organising the Vogue 100 dinner seating plan whilst juggling speakers for the festival, having to deal with last minute cancellations and additions, organising the exhibition, alongside dealing with her fear of flying and dealing with the day-to-day workings of the magazine! It would be enough to tip any person over the edge, and yet Alexandra pulled it all off seamlessly. She constantly credits her amazing team, but it takes a very strong and organised leader to pull something like that off; hats off to her! What I loved most about the book too, was how much she seemed to crave a simpler life. Whilst many women would claim a job at Vogue as their dream, hers is to tend to her garden and spend more time enjoying art and time with her family; her honesty is humbling and her wit endearing. I enjoyed it all.
The elusive centenary cover
I know she has said publicly that she isn't a fan of bloggers, but Alexandra if you ever read this (not that I think you ever will!) I just want you to know that you were one of my inspirations when I started mine, so for that I thank you. I'll never have the opportunity to work for Vogue, but when I write about fashion and my love for it, know that every word comes from a girl who spent many years pouring over its pages; thank you for being my fashion education.
Until next time,
Kay x