Hello lovelies!
Yesterday saw the end of yet another London Fashion Week. I wasn't there, but I always love it and try to catch as many of the shows as I possibly can, Burberry being my all time favourite. Normally I review the shows that I most enjoyed but this time I thought I'd do things a bit differently. I'm going to chat a little about the shows I watched, give a little bit of background and then the ultimate challenge; I'm going to choose my favourite piece from each collection-yes just one...not sure I can handle this but here goes...
Sunday...
I was away in York and Leeds for the beginning of fashion week, so the first shows I actually got to watch were on Sunday. Sunday (minus Monday for Burberry) is usually my favourite day of fashion week. I always look forward to Vivienne Westwood, glimpse at a bit of Paul Smith and this year there was the added bonus of McQueen. So much fashion in one day...if only every day was like this...!
Vivienne Westwood: Intellectuals Unite
'Intellectuals Unite' is the title of our Womenswear Autumn/Winter 16-17 collection, symbolising Vivienne's mission to bring all intellectuals together and fight against the politicians who are destroying the environment. The renaissance theme from our MAN Autumn/Winter 16-17 show continues on with the "Joker" featuring throughout the collection. The bold prints, tartans and knitwear represent the irony and innocence of this character.
Two artists from this period heavily influence the collection; the sculptor Donatello and the painter El Greco. Donatello's effortlessly draped statues directed some of the silhouettes and fluid elements in the collections, while rich colours from the El Greco paintings inspired colour and fabric choices. There are nods to history and modernity, striking a balance between the past and the future.
Vivienne Westwood is an amazing woman and I love that she uses her position in society to fight for what she really and truly believes in. But for all her eco warrior status, her work never suffers and this AW collection was no exception. Bold prints, heavenly tailoring and references being made to previous collections, it was wearable and earthy but also incredibly fun. I hope she lives forever, as fashion would be a pretty dull place without her!
I was stuck between a couple of pieces but in the end I went for this absolutely stunning dress, mainly for its detail, tailoring and wearability. I love the flattering cut of a Vivienne Westwood dress, and whilst other pieces from the collection carried a stronger political image, this was the one I'd really love to wear; just gorgeous!
Alexander McQueen
My love for McQueen really grew after I visited 'Savage Beauty' at the V&A. Never have I been so moved by an exhibition that really showed McQueen's genius in all it's glory. I've visited the Bond Street store a few times since; there's so much warmth there, it's always so welcoming. What I love about McQueen under Sarah Burton is that she carries the message and stays true to the underlying principles of the house, but manages to capture so much beauty and imagination in her work.
The current AW'16/17 show conveyed this beautifully. Centred around the idea of women living life half way between fantasy and reality and drawing inspiration from forties tailoring and lingerie, the collection was a true thing of beauty. I loved the addition of butterflies, harking back to the famous Philip Treacy Butterfly headdress from McQueen's 2008 SS collection.
Image taken from: http://www.alexandermcqueen.com/experience/en/alexandermcqueen/archive/alexander-mcqueen-womenswear-autumnwinter-2016/#id_article=21463
I struggled to choose just one look from this collection; it was so theatrical and held so much beauty. In the end I went for this (not for wearability this time!!) due to the sheer beauty of the detailing; the delicate embroidery and the dreamlike images and embellishments-the look is so definitely McQueen. Watch the show in full
here
.
Monday...
Burberry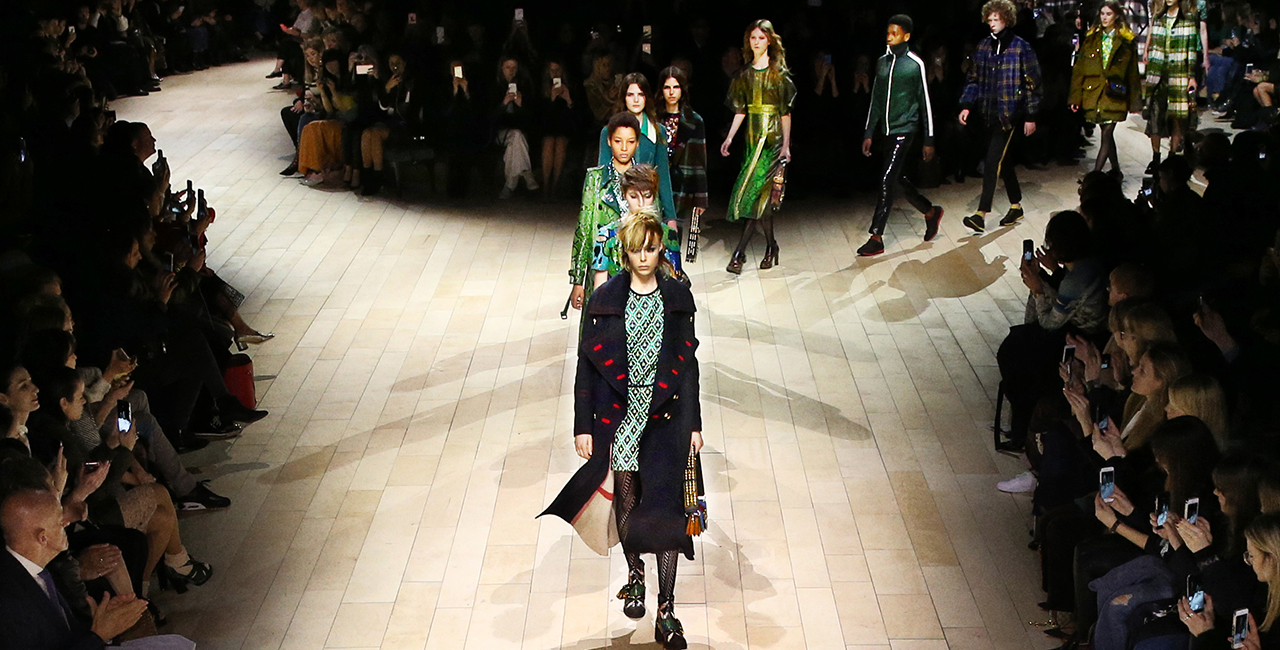 I am not going to spend the rest of this post talking about my love for Burberry. It's my favourite show of fashion week, I think Christopher Bailey is untouchable, I love the correlation between the shows and amazing British artists, I discovered James Bay because of Burberry, I could go on and on. Always truly British, always forward thinking and always amazing, I really enjoyed this presentation. I also enjoyed Jake Bugg's amazing performance, particularly when he broke into 'Songs About Love'. Thanks once again to the people behind this amazing show. And Rosie was on the FROW, what more could you want!
The military look was very prominent in this collection; there were some beautiful coats. Team that up with stunningly embellished dresses and you're on to a winner. Colours used were warm and autumnal, navy, red, mulberry, teal-you name it. It would probably be easier if you watched the show (
here
), rather than listened to me fan-girling about it (go on-you'll love it!)!
Image taken from: http://www.elle.com.au/runway/ready-to-wear/aw16/2016/2/burberry-aw16/burberry-aw16-image-2/
I always seem to enthuse about Burberry coats when I talk about the shows, but this dress is the piece that really stuck in my head this time around-I love the colours (I want to own it and wear it!!) but I wouldn't say no to a beautiful military coat either, j'adore Burberry!!
What were your LFW highlights?
xxx
Images are not my own and are all credited accordingly.